Thank you to so many of you who responded so positively to my first Newsletter about the Engineering and Design Faculty (EDF) at Wynberg. It is most encouraging to know that we have so many supporters out there.
Despite the wet weather we have experienced recently, I am happy to report that construction has continued and that the completion of Phase One of the Engineering Faculty is still on track for the end of October this year. Because of the availability of funding, I am also pleased to announce that the Steering Committee has given the contractor the go ahead to start construction of part of Phase Two of the project immediately after the completion of Phase One. This is going to involve reengineering and refurbishing the classrooms on the existing ground floor to create a workshop, two theory classrooms and office and storage spaces. The cost of this extension of Phase One is approximately R3 million. (see images below)
.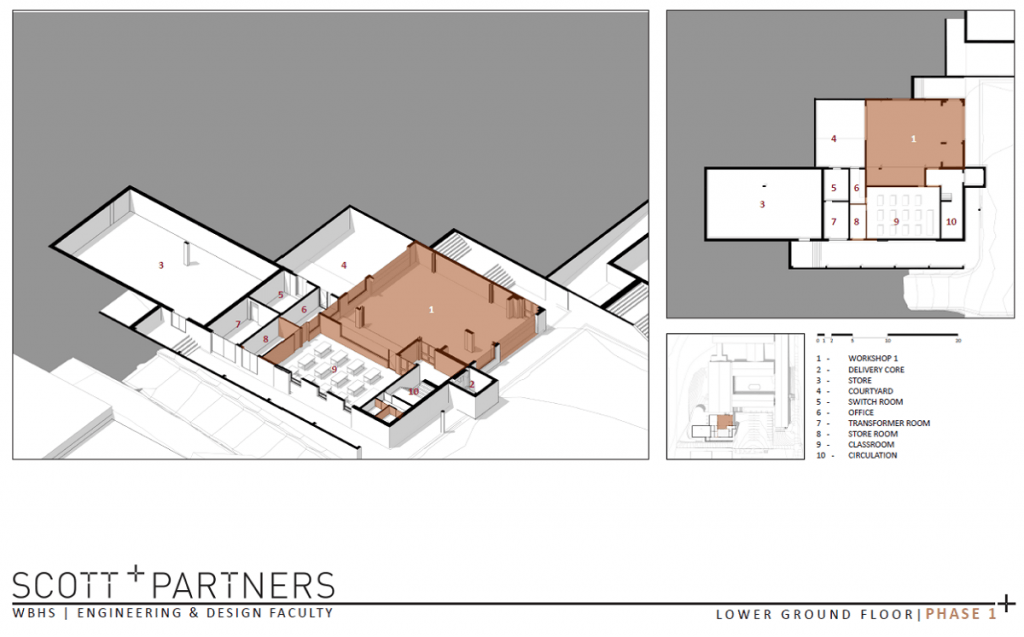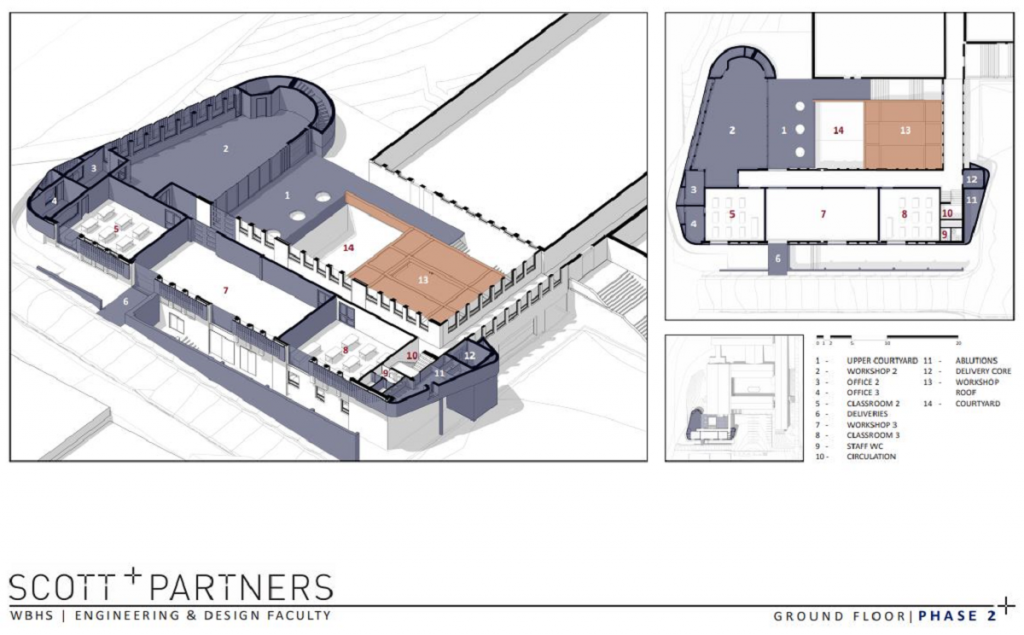 Important Information About The Subjects Offered in The Engineering and Design Faculty
A number of people have asked questions about the subjects to be offered in the Faculty and I thought it appropriate to share some information with you.
Firstly, it is important to know that all subjects offered are fully accredited National Senior Certificate subjects.  These appear on the Matric Certificate of the student and count toward university entrance points.  They are equally weighted alongside subjects like History, Accounting, Geography or Economics.
It is compulsory for all students in the school to take Life Orientation, English as a Home Language and either Afrikaans or Xhosa as an additional language..  Students must then also choose at least three elective subjects from our subject offering.
A student who chooses to do a technical subject has to take Mathematics (rather than mathematical literacy), Physical Sciences and Engineering, Graphics and Design (EGD) as their elective subjects. We have designed into our timetable the opportunity for boys to do a fourth elective should he choose to do so.
Students may choose one of the technical subjects that will be offered in the Engineering and Design Faculty namely:
Electronics – introduced in Grade 10 in 2018 or
Civil Construction – Engineering – being introduced in 2020 or
Automotive Engineering – TBC – in 2021 or
Digital Electronics – TBC – in 2022
This means that a typical subject list of a boy studying in the Engineering and Design Faculty will look something like this:
English Home Language
Afrikaans or Xhosa First Additional Language
Life Orientation
Mathematics
Physical Sciences
1 x Technical subject
EGD
One more elective (optional)
Those familiar with the school system will know that this is certainly not an easy option, particularly if you consider that both the technical subjects and EGD have a large practical component which can be time consuming.
A Grade 12 student graduating out of Wynberg from the Engineering and Design Faculty will have multiple options open to them. They can go straight into University or to a Technical College, enter industry immediately with one of our partners as an intern, or apprentice or go directly into the world of work and ultimately open their own businesses.
In order to facilitate this third avenue, all students studying through the EDF will complete an entrepreneurship course currently being designed by Wynberg old boy, Andrew Hibling (class of 1990) through his company Edge Learning Media.

Mentoring and Job Shadowing
We continue to look for partners that are able to offer job shadowing and holiday work experience.
We are grateful to our existing partners,
Thank you all for your interest and support and should you want to get involved and offer mentoring and or job shadowing opportunities, please feel free to contact me for more information.
 
Jan de Waal
HEADMASTER

Some Useful Links
Follow Us On Instagram
#superamorastrust
Instagram has returned invalid data.